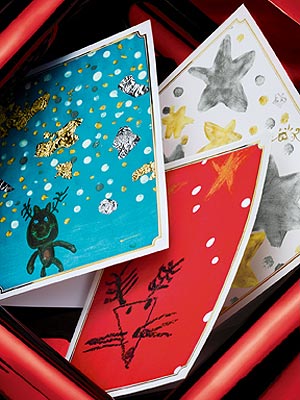 One exceptional and fun way to save money this holiday season is to make your own gift wrap and holiday cards. Holiday cards can cost hundreds of dollars. And gift wrap can be almost as expensive.
Here are a few ideas to make your own holiday cards and gift wrap.
#1 Paper Bags
Your paper grocery bags present a few opportunities to make beautiful wrapping paper. Cut the bags lengthwise. Remove the handle if there is one. The printed side of the paper bag will be on the inside of the gift. The plain unprinted side will be what your recipient sees. Now you can wrap your presents with the plain paper and adorn them with bows. Pine cones and tree boughs make a nice touch to the plain paper bag look. It gives it a rustic, natural effect.
However you can also get fancy with your paper bag wrapping paper. Sponges and tempura paint can be used to create a pattern on the paper. If you are skilled at drawing you can personalize each gift with a hand drawn element.
#2 Card Design Software
A simple way to make your own cards is to download a free card designing software from the internet. You can then design the picture or image. You can also often upload your own photos into the card or create your own artwork. Enter your text, print them out, and you're good to go.
#3 Photo Cards
Many families have created the tradition of sending a family photo as their holiday card. Instead of spending money on pricey photo paper simply print the image on plain printer paper. You can add your own message to each photo card, print, and send.
#4 Origami
Fold out cards are fun. You can find many origami instructions online. Create the card by purchasing card stock in your color or pattern of choice. Fold your origami shape. Cut each piece of card stock to the size you need. Print your message on the cardstock if you choose. Attach the origami shape to the center of the card. You can also fold the card in half and attach the origami to the inside or the center of the fold to make a "pop up" card.
#5 Holly Card
For this card you'll need card stock in the shape and size you prefer. You'll also need, brown, red and green paper. Cut out small berries, stems, and holly leaves and glue them to the front of your cards.
Buttons, snowflakes, string, painting and printing your own computer designs also make great Christmas cards. You just need a little imagination and a plan to create your own great holiday cards and paper.
Stay Informed!
Fill out the form below to receive our free natural health newsletter. It's filled with practical tips, health alerts & more!

As a thank you, we'll send you The Healing Art of Reflexology mini-course FREE!!
Free PDF Health Ebook...
Alternative Household Product Recipes
Simply right click the ebook title above, and choose Save As to save to your desktop! You can find more FREE Natural Health, Wellness and Pet Ebooks at Remedies4.com!

---